Welcome to the web site of Sunbeds.co your first choice for top quality Collagen Light Therapy Products at great internet prices and with FREE delivery (UK mainland).
INTRODUCING COLLAGEN LIGHT THERAPY
As we grow older the amount of Collagen that the body is able to produce is reduced. Collagen is the most common protein found in the body and is in essence the substance that holds our cells together. This essential protein,used to repair and replace damaged tissue,is produced much less as our body's natural regeneration process slows down with age.
The beauty industry has provided us with many treatments over the years to help combat the visible signs of aging in its ongoing efforts to help those of us who want to look younger. Unfortunately, many of the most effective protein replacement treatments have proved unpopular because they involve painful Collagen or Botox injections. Lasers or micro dermabrasions are similarly painful treatments which although are largely effective are not available in all High Street Beauty Salons.
Imagine if there was a pain free treatment available that stimulated your body's own natural production of Collagen. An affordable, relaxing treatment that has been recognised through over 40 years or worldwide independent research as being safe and beneficial for the treatment of wrinkles,fine lines, crows feet, cellulite, age spots and acne.
You are imagining Collagen Light Therapy. Recent exciting scientific breakthroughs have seen the development of the Cosmedico Collagen Pro Beauty Lamps which we have incorporated into our 2016/2017 range of Collagen Therapy Units. These affordable and stylish units are available in Canopy Versions, Double Units or as an ultra modern space saving walk in unit.
These modern slim line units are a vast improvement on the costly equipment previously used which was only really available in expensive Health Spas to the privileged few who could afford the costly treatment.
This has now changed and we are pleased to be able to offer you our range of ergonomically designed Light Therapy units that produce an intense red light at 633 nanometres which is considered to be the optimum level of light necessary to take full advantage of this proven anti aging development.
A regular course using one of our Collagen Light Therapy Units will encourage your skin cells to naturally stimulate your body's own production of Collagen and Elastin. This visible anti-aging effect can help reduce wrinkles whilst also firming and toning the skin.
The gentle red light waves of the Cosmedico COLLAGEN Pro Beauty lamps stimulate the skin to start producing skin-tautening Collagen and Elastin fibres in the deeper layers of the dermis again. This photo bio stimulation has a visible smoothing effect on wrinkles and activates the metabolism of the skin.
The result is a tighter, firmer skin with reduced visible lines.
Benefits of Collagen Light Therapy Treatment
Visible anti-aging effect
Reduction of lines, especially around the eyes,neck and mouth
Improvement of skins elasticity,suppleness and firmness
Renewal of Collagen & Elastin fibres
Oxygenation and detoxification of the skin
Activation of the skins metabolism
Promotion of a healthy skin
No known negative side effects
Painless - Safe - Relaxing
A stylish high strength 160watt 20 tube Vertical Collagen Therapy Unit. Fitted with customer controlled internal "Body Breeze Fans". Runs off normal 13amp household electrical supply (2 x 13amp plugs) so ideal for home use.
A superb 20 tube walk in Vertical Collagen Therapy Unit suitable for either home use or a good start up unit for a beautician looking to get started in the profitable business of Collagen Therapy. A BRAND NEW unit with a full 12 months (RTB at CV6 4AB) Guarantee. Price includes FREE delivery and installation antwhere on the UK mainland.
Collagen Light Therapy Canopy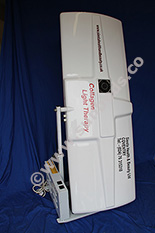 A stylish high strength 160watt 9 tube curved foldaway unit fitted with high power Red Light Collagen Light Therapy Tubes and a 4 tube facial booster. The tubes are protected with a full acrylic safety screen.
A superb full body Collagen Light Therapy Unit suitable for either home use or as a good start up unit for a beautician looking to get started in the profitable business of Collagen Therapy treatment. These units are manufactured using only the highest quality components.
£1175.00
Collagen 18 tube Double Unit
Our stylish 18 tube compact curved Double Unit is fitted with 160watt/100watt Collagen Light Therapy tubes with an additional 4 facial tubes to boost the treatment around the facial area.
Hydraulically assisted lift and lower system to ease operation.
Runs off a standard 13amp Household supply.
Length = 1900mm Width = 685mm

A stylish 18 tube curved Double Unit which runs off a standard 13 amp plug. Fitted with high power 160/100watt red light tubes and a 4 tube facial boost. Both the top and bottom are fan cooled for greater comfort and efficiency.
160watt tubes in the canopy ~ 100watt tubes in the base.
£1995.00 includes FREE mainland U.K. delivery and installation.